Retractable Patio Screens for a Convertible Outdoor Living Space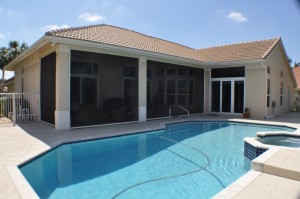 Retractable patio screens from Sunesta allow you to customize your outdoor living space at a moment's notice. When you don't want to swelter in the sun, you can extend your patio screen and enjoy the sweet relief of the shade. When you prefer to take full advantage of bright, warm, cloudless days, press a button or turn a crank and voila – your patio screen will be tucked away until you're ready to use it again.
At Sunesta, we know that every home is different – and no single awning is going to work for every porch, patio, or deck. That's why our company fabricates each of our retractable covers to order and offers a wide range of projection lengths; no matter how large the area you're looking to cover, we can create a retractable awning that'll be a perfect fit.
You'll also love how, like all of our other retractable covers, Sunesta Patio Screens are:
Installed without unsightly support poles, so you can enjoy the beautiful scenery that you fell in love with when you purchased your home.
Made with premium acrylic fabrics, which will resist mold and mildew and retain their bold color for years to come.
Easily enhanced with our top-of-the-line accessories, such as projection screens, lights and heaters, and remote controls.
Plus, our patio screens are backed by some of the best warranties in the industry. That means that your entire purchase – from the motor and the frame to the fabric awning itself – will be fully protected from whatever comes its way.
For more information about the retractable patio screens offered by Sunesta, call 1-800-SUNESTA today.