With Roll Out Awnings From Sunesta, You Can Engineer Your Perfect Day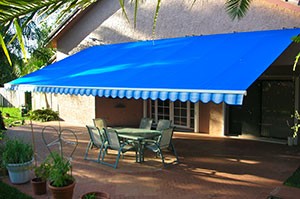 Roll out awnings are the perfect way to control the amount of sun or shade you get in your yard. In a matter of moments, you'll be able to extend a cover out over your space, or pull it back so that you can soak up the sunshine. Switch back and forth as the occasion requires, all with the touch of a button or the twist of a handle.
Whether your awning is retracted or rolled out, you'll still have the same gorgeous view of the outdoors. Our roll out awnings don't have any unsightly support poles, so you can block the sun without blocking the scenery. Plus, with options such as the following, you can further enhance your outdoor experience:
Handheld remote controls that allow you to adjust your awning without getting up from your seat
Heaters that allow you to comfortably enjoy your covered patio space during the chillier months
Adaptive technology that allows you to adjust the angle of your awning as the sun moves across the sky
More importantly, all of our roll out awnings are made to order and are available in a nearly limitless combination of colors and custom sizes. We even make retractable awnings that can go above your windows and doors. However you plan to use your awning, we'll design the perfect one to suit your needs.
To learn more about our roll out awnings, call 1-800-SUNESTA today. We'll help you select the perfect outdoor living products for your home.