Is Acrylic Fabric Water Resistant?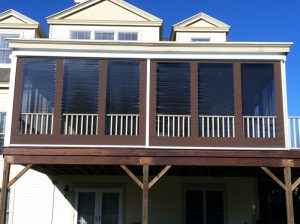 Homeowners across the United States have long searched for exterior, retractable screens that can be used to provide protection against insects, intense sun, and most importantly, moisture damage. Depending on where you live, during certain times of the year, many homeowners may find it almost unbearable to set foot outside due to intense heat. Having a screen installed over your patio or porch is the easiest way to continue enjoying your backyard. However, a great concern for many homeowners has always been that their new screen will fade or become damaged due to contact with water. Thankfully, an acrylic fabric screen is the perfect material to utilize because it is water resistant.
Not only are outdoor privacy screens a great way to keep yourself protected against rainfall, but they are also an excellent way to create an outdoor living area that blocks out the sun so that you can enjoy it year-round. Many screens are available with a wide variety of customization options such as opacity levels, colors, and motorization controls. These extra features allow you to create the exact outdoor space you have always desired for entertaining, relaxing, or just enjoying your backyard.
At Sunesta, we have been offering shading solutions since 1981 and have become the leading manufacturer of custom retractable screens. Our screens are made with 100 percent solution-dyed synthetic fibers to keep your colors vibrant and create a resistance against fading caused by the sun or inclement weather.
For more information about water-resistant acrylic fabric and how it contributes to weather-resistant outdoor patio screens, contact Sunesta today at 1-800-SUNESTA. We proudly serve homeowners throughout the United States.