A Beautiful and Functional Awning for Your Home in the Ocala, FL, Area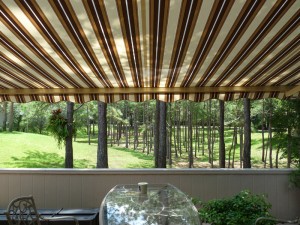 Are you looking for a premium awning to add to your home in Ocala, Florida, or a nearby community? If so, trust the experts at Sunesta to custom manufacture a high-quality canopy for you that will fit the precise dimensions of your patio. We also offer a wide selection of fabrics to choose from, which means you are sure to find a color and pattern you love.
In addition to being custom made, your new awning for your home in the Ocala, FL, area, will also be:
• Built to withstand winds greater than the industry-recommended 45 mph
• Woven from 100 percent solution-dyed fibers that won't fall victim to fungus growth or fade in direct sunlight
• Mounted on powder-coated frames that are easy to clean, which means you will be able to spend more time enjoying your new awning and less time dealing with its upkeep.
• Retractable so you can easily enjoy the warm sun on a cool day
While we offer exceptional shade solutions, we also provide excellent customer service. Your new awning will come backed with an industry-leading warranty, so you can rest assured that your investment is protected. Plus, all of our awnings come with unique SmartCode™ numbers. The identification code of your new awning will give us instant access to the details of the product, so we can promptly help you in the event you need assistance down the road.
For more information on adding an awning to your home in Ocala, FL or another nearby city, call 1-800-SUNESTA today.