A Patio Awning from Sunesta Can Help You Make the Most of Your Outdoor Space
A Beautiful Outdoor Awning is Waiting for You at Sunesta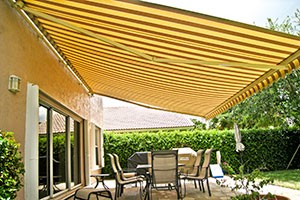 When you need an outdoor awning to provide shade for an area around your home, consider the shading solutions offered by Sunesta. Rather than mass produce awnings in generic sizes, we use a computer-aided manufacturing process that allows us to make awnings in very specific sizes – down to the inch – which ensures a perfect fit for every home. Additionally, we have one of the largest selections of fabric styles in the industry, with more than 180 variants of colors and patterns to choose from.
With Sunesta, there are many other ways to customize your outdoor awning as well, including:
Structure style – We make awnings that attach to the home, shade structures that stand freely, and covers that mount atop existing structures like pergolas.
Frame color – Unlike many of our competitors, we offer several different frame colors, such as white, beige, brown, and clay.
Additional features – Sunesta offers myriad ways to enhance the functionality of your outdoor awning, including motorization and sun and wind sensors.
At Sunesta, we're equally as dedicated to durability as we are to customization. That's why our awnings are supported by strong metal frames that are powder-coated in a finish that is four to eight times thicker than paint. Additionally, our fabric is made from an inorganic compound that deters the growth of fungi like mold and mildew.
If you'd like to have a retractable outdoor awning custom made for your home, call 1-800-SUNESTA today and one of our representatives will be happy to help you.