Awnings for Patio | Don't Settle for Generic Styles
Choose Custom Awnings for Your Patio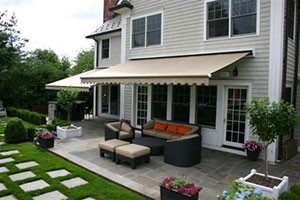 When you are looking at retractable awnings for your patio, don't settle for the generic products that line the shelves of the big-box stores. Instead, consider working with a custom manufacturer that can design and create an awning specifically for your home. After all, installing an awning is more than just an opportunity to provide your patio with shade and protection from light rain storms; it's also an opportunity to beautify your home and potentially increase its value. For this reason, it's well worth taking a moment to consider what a difference it would make to work with a manufacturer that specializes in customizing awnings for patio use.
One benefit that you won't get at the big-box stores is being able to specify the size of your awning. For example, maybe you have an outdoor seating, eating, or grilling area that you'd like to cover with a patio awning, but you'd like it to be a certain size so that it will cover your table, chairs, or grill. At a big-box store, you'll be forced to make due what's on the shelf, but with a custom awning manufacturer, you can ensure that you get an awning in the exact size that you need.
When working with custom awning manufacturer, the possibilities are virtually limitless. Fabric color, frame color, valance styles, and accessories like wind and sun sensors are all examples of features that can be customized, so if you want the best in terms of appearance and functionality, it's best to choose a manufacturer that will sculpt an awning to your desires.
Sunesta has been a leading manufacturer in the custom awning industry since 1981. We custom-manufacture a variety of awnings for patio use for homeowners all across the United States. If you'd like to learn more, call 1-800-SUNESTA today, and one of our representatives will be happy to assist you.