Awnings Milwaukee WI | Custom Awnings
Custom Awnings for Homeowners throughout Milwaukee, WI & Surrounding Areas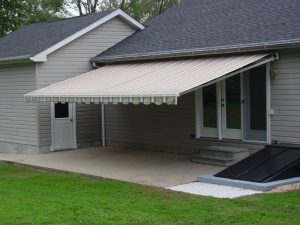 Sunesta Awnings are one of the best investments that you can make for your Milwaukee, Wisconsin, area home. Our sunshade products will help you to enjoy your backyard like never before by giving you complete control over the amount of sunlight that makes its way into your space. We have been the leading manufacturer of custom awnings since 1981. We utilize a computer-aided process that allows us to make awnings in every size so that yours will fit your space perfectly.
Our decades of experience, combined with the state-of-the-art manufacturing process we utilize, make us the premier choice for awnings in Milwaukee, WI, and the surrounding areas. And, we can provide shading solutions for every part of the home, including for:
Patios
Decks
Windows
Doors
Pergolas
Skylights
One of the greatest advantages of choosing Sunesta is our large selection of fabric styles. We offer more than 150 different colors and patterns to choose from. And, we can even coat our awning frames in different colors allowing you to completely customize our shading products.
Additionally, our sunshades are the most durable products available on the market. Sunesta products are made with durable materials that will last for years to come. And, because our fabric is made with 100 percent solution-dyed synthetic fibers it is entirely resistant to the growth of mold and mildew and will not lose color even after prolonged exposure to intense UV rays.
For more information about the awnings that we create for homeowners in Milwaukee, WI, and surrounding areas, call 1-800-SUNESTA today.