Canopies Long Beach Township
Window and Door Canopies Can Help Save Money & Enhance the Look of Your Home in Long Beach Township, NJ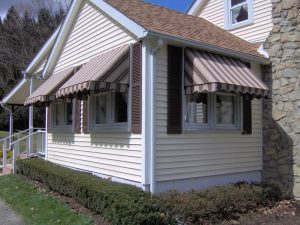 Canopies over the windows and doors of homes in Long Beach Township, New Jersey, can give them a stylish look that stands out in the neighborhood. But did you know that the U.S. Department of Energy considers these awnings to be a significant way of cutting energy use?
That's because canopies that keep the sun from streaming through glass panes can help reduce heat gain in the summer. What's more, in the winter, retractable canopies from Sunesta, a top name in the industry, can be retracted to allow the sun's heat to warm the home. That's likely to reduce your utility bills for cooling and heating, which means not only a win for the environment but also for you, the homeowner.
When you decide to add canopies to your home in Long Beach Township, NJ, or a nearby community, you'll want to invest in sturdy, durable awning options that complement your home beautifully, as well as function properly for years to come. That's why you'll want to take a close look at the canopies that are custom-manufactured right here in the United States by Sunesta. Here are few features that stand out about Sunesta canopies:
They are custom-fit and installed at every home by trained technicians from an authorized Sunesta dealer.
They are made with 100 percent solution-dyed synthetic fabric that resists fading, mold, and mildew.
They are available in more than 150 styles, including solid colors and striped patterns.
They come with comprehensive warranties on the fabric, frame, and motor.
In addition, Sunesta is dedicated to customer satisfaction and has pioneered a number of technological advances in the industry, including the use of Computer-Aided Awning Manufacturing (CAM) software. Sunesta canopies and other products also come with our exclusive SmartCode™, which records the details of your custom order so that we can track it and provide you with personalized service in the years to come.
For more information about beautiful, durable window and door canopies for your home in Long Beach Township, NJ – as well as retractable awnings and screens for your patio, porch, pergola, or pool deck – contact Sunesta today.