Patio Awnings Lakewood Township NJ
Custom Patio Awnings Made for Homeowners in Lakewood Township, NJ, by Sunesta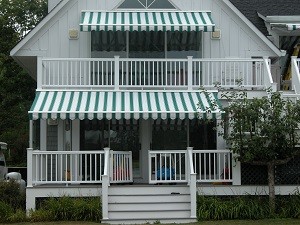 Patio awnings can add comfort and shade to your property in Lakewood Township, New Jersey. And, when you have your awning made by Sunesta, you'll have a one-of-a-kind shade solution that has been completely customized to fit your unique space and tastes. We offer the largest selection of awning fabrics, with more than 180 distinct styles to choose from. Furthermore, you can choose one of several different frame colors, and we can design your new awning to have dimensions that fit precisely to your space – our patio awnings can be made up to 40 feet wide, and extend out to 14 feet, 8 inches, providing the exact amount of shade you want.
In addition to being customizable, Sunesta's patio awnings have several other features that make them the best choice for your home in Lakewood Township, New Jersey. Our awnings are:
Made with 100 percent solution-dyed acrylic fabrics that retain their color
Resistant to mold and mildew growth
Impervious to water damage
Easy to clean and maintain
Built with stainless steel hardware that won't rust or rot
Backed by industry-leading warranties
Every awning we produce is made to order at our own manufacturing facility, which allows us to provide incredibly high-quality products and quick turnaround times. Generally within five days of receiving your order, your new awning will be made and ready to ship out to your home. Once it arrives, a factory-trained professional will install it for you, ensuring that the awning fits properly so it can be enjoyed for years to come.
For more information about having custom patio awnings made for your home in Lakewood Township, NJ, call 1-800-SUNESTA today.