Patio Cover Tucson AZ
Design a Patio Cover for Your Home in Tucson, AZ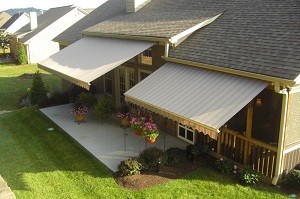 If you want a patio cover for your home in Tucson, Arizona, look to the custom shade solutions offered by Sunesta. Since 1981, we have been making retractable awning products for our customers all over the nation. Using a state-of-the-art, computer-aided manufacturing process, we can engineer your perfect day – a patio cover that allows sun when you want it and provides shade when you need it. We have a wide array of customizable patio covers for you to choose from. So, whether you envision an awning that's attached to the side of your home or a freestanding structure to provide a shady oasis elsewhere on your property, you'll be able to find exactly what you're looking for with Sunesta.
When you choose Sunesta to make a patio cover for your Tucson, Arizona, home, you'll discover that there are many ways that you can customize your awning, including:
Frame color – Our awning frames are available in in four stylish colors that are sure to complement any home's exterior: beige, white, brown, and clay
Fabric style – We offer more than 180 different color and pattern styles for our awning fabric, so you're sure to find an option that meets your aesthetic preferences
Cover size – Our awnings can be made to fit the precise dimensions of the area you want to cover, making for a shady space as big or small as you want
Additional accessories – Sunesta offer an assortment of add on features for your new patio cover, including motorized extension and retraction, dropdown valences, sun and wind sensors, and so much more
In addition to being customizable, Sunesta's patio covers are built to stand the test of time. Our fabric is made of 100% solution-dyed acrylic that will remain colorfast and resist mold and mildew growth. Plus, our awning structures are built to withstand winds greater than the industry-recommended 45 mph. And, for your added peace of mind, all of our patio cover products are backed by industry-leading warranties.
To get started on designing a patio cover for your home in Tucson, AZ, or any nearby area, call 1-800-SUNESTA.