Sunesta Offers a Diverse Collection of Sun Shades for Homes Across the Country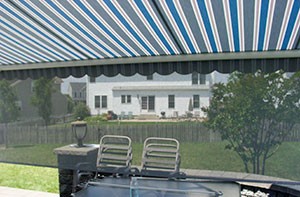 When you're looking for sun shades, there's no better place to turn than Sunesta. This is in part due to the wide variety of shading solutions that we have to offer; retractable deck and patio awnings, window and door awnings, screens, and freestanding shade structures all but scratch the surface of the many different shading solutions that we can provide. And the best part? Every single one of them is custom-made.
Here at Sunesta, we understand that when you think of sun shades you're probably thinking of something a little different than what your neighbor might have on their home. That's why you'll never find our products on a shelf, only available in generic shapes and sizes. Instead, we celebrate diversity by helping our customers turn their own, unique shading visions into tangible realities. For example, when you choose any of Sunesta's sun shades, you can rest assured that it will be:
Designed to fit its designated space perfectly – exact, to the inch.
Available in plentiful colors and patterns, as we offer the largest selection of fabrics in the industry with more than 180 unique styles.
Customizable with many addable features, including motorization and remote control operation, dropdown valances, and even tilting mechanisms for on-the-fly adjustability.
Now, you might be thinking, "Oh, but I want my sun shades now. I don't have time to wait for a custom-manufacturing process." Fortunately, Sunesta has refined its production method to a point that we're able to offer a turnaround time that's quicker than most in the industry. Our shading products are generally shipped just five days after we receive an order.
For more information about Sunesta's sun shades, call 1-800-SUNESTA today and one of our representatives will be happy to assist you.