A Fabric Canopy from Sunesta Could Be the Perfect Addition to Your Home
A Fabric Canopy from Sunesta Could Be the Perfect Addition to Your Home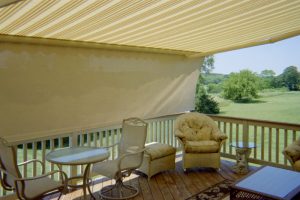 Sunesta can craft you the perfect fabric canopy for your home. Our awnings are all completely custom manufactured, which means we'll get the measurements of your space and make an awning that fits perfectly, right down to the very inch. Additionally, we have an assortment of more than 150 beautiful fabric styles – quite a large collection in which you are sure to find the perfect color and design to complement your home.
In addition to size and fabric style, there are plenty of other ways a fabric canopy from Sunesta can be customized. For example, here are a handful of add-on features that we offer:
SmartPower™ – Extend and retract your awning with the simple push of a button or with the turn of a handle.
SmartDrop™ – Opt to have a solar fabric installed that drops from the front bar of your awning and provides additional privacy and sun protection.
SmartTilt™ – Allows you to quickly and easily adjust the angle of your awning to ensure shade where you want it, regardless of the sun's position in the sky.
No matter where you are thinking of putting your fabric canopy, you can trust Sunesta for the solution. We make awnings for all areas of the home, including decks, patios, doors, windows, pergolas, and more.
If you are interested in having a fabric canopy custom made for your home, contact Sunesta today. When you do, don't forget to ask about our outstanding warranties!