Where to Buy a Patio Screen?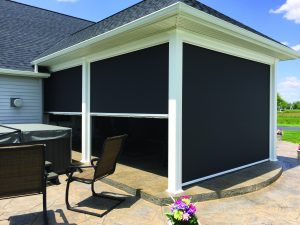 Having a retractable patio screen installed on your home is an efficient way to create a space for you to enjoy the sun or shade when you are relaxing outside. With so many big-box stores offering screens in generic sizes that will never fit perfectly on your home, it can be hard to determine where to purchase your patio screen. Before you settle on where to buy a patio screen, it is important to determine exactly what you are looking for in a screen.
There are many customizable fabric options available for patio screens to help you create the outdoor sanctuary that you desire for your home. You will be able to select from opaque fabrics for extra privacy, bug screens, solar mesh, or even the option of having clear vinyl windows installed in your patio screen. Also, you should turn to a company that offers many different colors to choose from to ensure that you can match the existing aesthetic of your backyard.
For the highest quality patio screens available to homeowners throughout the country, turn to the shading experts at Sunesta. We have been in business since 1981 and offer privacy screens for patios, porches, pergolas, and more. We custom manufacture all of our products at our American manufacturing facility to ensure that your product fits your space perfectly and has all of the features that you desire.
For more information about the patio screen options that we provide for homeowners throughout the United States, call 1-800-SUNESTA today.