Canopies for Homes in the Tucson, AZ, Area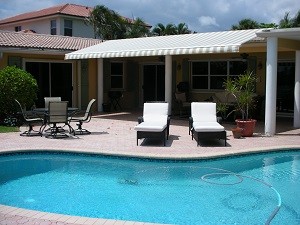 Canopies from Sunesta can transform your underutilized backyard in Tucson, Arizona into an outdoor living space you can enjoy year-round. Imagine have a cool, shaded area outside to read your favorite book in or having a comfortable space in your backyard to entertain in throughout the seasons – you'll spend more time outdoors than ever before.
At Sunesta, all of our canopies are custom made so that they perfectly fit the specifications of your patio space. Our awnings are also retractable, which means you can enjoy the shade during the warmer months of the year, and relax in some warm sunlight during cooler afternoons.
Additionally, we offer the largest selection of fabrics in the industry, so you are sure to find a color and pattern for your awning that you will love. Other benefits that come with the canopies we offer to homeowners in the Tucson, AZ, area, include:
Low maintenance requirements – The frames that come with our canopies are all powder coated, so they are exceptionally easy to clean.
Durability – Our awnings have been tested and confirmed to withstand winds greater than 45 miles per hour.
Mold and mildew resistance – The fabric we use is woven from solution-dyed synthetic fibers, so it won't become overgrown with mildew and mold.
Not only do we have top-of-the-line products available, we also provide our customers with excellent customer service. All of our canopies come backed with industry-leading warranties, so you can rest assured that your investment is protected.
To find out more about the canopies we have available to homeowners in the Tucson, AZ, area, call 1-800-SUNESTA today. Our team of experts are available to answer any questions that you might have.