Create a Personalized Patio Cover for Your Home in Hamden, CT, With Sunesta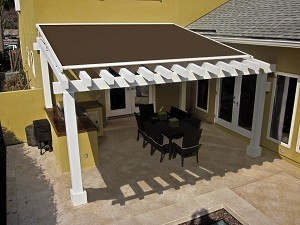 If you want to install a patio cover on your property in Hamden, Connecticut, don't settle for just any store-bought product that might not be exactly what you want. Instead, consider designing a retractable awning with Sunesta. Our retractable awnings are the perfect patio cover options for nearly any home, as they can be completely customized to meet your exact shading needs and your aesthetic preferences. And, because all of our awnings are made-to-order, you'll have control over every detail of your patio cover, which helps you ensure that you end up with a final product that you'll love.
At Sunesta, there are several ways that you can customize a patio cover for your home in Hamden, CT. For example, you can:
Choose your awning style – We have awnings that will attach to the side of your home, cover existing structures, or work on their own as freestanding shade systems.
Pick your colors – We offer four frame colors (brown, clay, beige, and white) and more than 180 distinct colors and patterns for our awning fabrics.
Specify your awning dimensions – We can make your new awning to fit the exact area you wish to cover, down to the inch.
Add optional features – We have several add-ons that can upgrade our awnings' performance, such as motorized operation, tilting mechanisms, and sun sensors.
In addition to being customizable, our patio cover shade systems are built to last. Our fabrics are made from 100 percent solution-dyed acrylic fibers, so they will resist color running and fading as well as mold and mildew growth. Additionally, our awnings' structures are engineered to withstand winds higher than the industry-recommended 45 mph. Plus, we provide industry-leading warranties on every product we make, so you can rest assured that your investment is protected.
To start designing a patio cover for your home in Hamden, CT, call 1-800-SUNESTA today.