The Perfect Patio Cover for Your Home in Ponte Vedra Beach, FL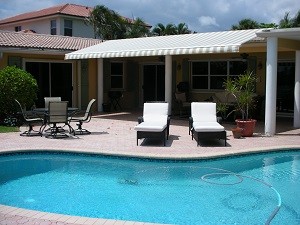 Are you looking for a patio cover for your home in Ponte Vedra Beach, Florida that is both beautiful and long lasting? If so, look no further than the high-quality shade solutions by Sunesta. We offer aesthetically pleasing retractable awnings that are ideal for any style home. Whether you desire a patio awning, deck awning, or something else, we surely have what you are looking for.
At Sunesta, we have helped countless homeowners turn their underutilized backyards into enjoyable outdoor living spaces by offering the best retractable awnings on the market. The patio cover selections we offer to homeowners in the Ponte Vedra Beach, FL, area, come with a number of benefits, including:
Durability – Our awnings have been approved by the Miami-Dade County and Florida Building Codes for exceptional resistance to high-speed winds. .
Low-maintenance – The powder-coated frames of your new patio cover will be easy to clean.
Customizable options – You'll have over 150 fabric patterns and colors to choose from.
Not only do we carry the largest selection of fabrics in the industry, our fabrics are also woven from synthetic fibers, which means they are mold and mildew resistant. With all of the exceptional features our awnings offer, you'll have more time to spend enjoying your new awning instead of worrying about its upkeep.
In addition to the top-notch products we have available, we also offer excellent customer service. Our awnings come with industry-leading warranties, so you can rest assured your investment is protected.
For more information on the patio cover selections we have available for homeowners in the Ponte Vedra Beach, FL, area, call 1-800-SUNESTA today