Retractable Screens Offer an Ideal Shade Solution for Homeowners in Phoenix, AZ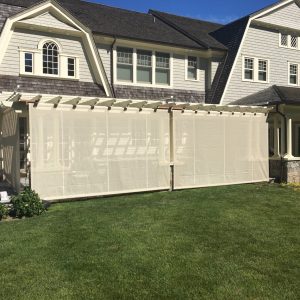 Retractable screens can be a particularly appealing addition to homes in Phoenix and surrounding Arizona communities. After all, residents of this part of the world routinely experience summer temperatures that well exceed 100° F, and the metro area has been ranked as one of the most bug-infested cities in America, based on online requests for pest control.
When you choose to add custom-manufactured retractable screens from Sunesta to your porch, patio, or pool deck in the Phoenix, AZ, area, you can enjoy protection from the sun's rays and from insects, even as you sit outside. And the benefits don't stop there. Indeed, the U.S. Department of Energy has listed these types of retractable shades among ways that homeowners can significantly reduce heat gain in their indoor areas, which can translate into lower cooling costs for your home. Then, when outside temperatures are more comfortable, you can simply raise your retractable screens and enjoy the fresh, open air.
Sunesta makes it easy to customize your retractable screen selections to suit your needs and aesthetic tastes. Here are some examples:
Choice of fabric weave – The fibers of our synthetic screen fabric can be woven tightly to block the sun, wind, flying insects, and rain, as well as provide privacy. If you'd rather enjoy a view of the outside and allow some air flow, you may opt for a more open weave.
Generous color selection – Our retractable screens are available in a wide variety of fade-resistant colors, so that you can choose the one that best complements your home.
Motorized or manual operation – Retractable screens from Sunesta can be raised and lowered with the easy turn of a hand crank or accessorized with push-button operation and even remote control options.
In addition to providing the options our customers want, Sunesta takes pride in our unmatched reputation for high quality products and customer service, and we back our products with exceptional warranties that will give you peace of mind that your investment is well protected.
To learn more about the beautiful, high-caliber retractable screens we have available for homeowners in the Phoenix, AZ, area, contact Sunesta today.